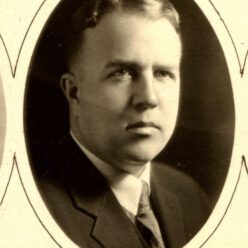 Founded by Mr. and Mrs. John D. Hendrickson II for grants to Heritage Frederick to host historical lectures in Mr. Newman's name.
Born in the City of Frederick on January 10, 1897, Parsons Newman was the son of John Shaw Newman and Amy Rebecca Parsons. After graduating from Boys High School in Frederick on 1914, Mr. Newman attended University of Virginia, where he earned both undergraduate and law degrees. In between his degrees, he served in World War I. After earning his law degree, Mr. Newman returned to Frederick, where he practiced law for more than 50 years, concentrating in real estate property, trust and estate matters, and financial and general corporation work. He was chair of one of the Frederick County Draft Boards and a member of the Maryland State Board of Bar Examiners, evaluating applicants for admission to the bar. He served as President of the Frederick County Bar Association and as a member of the Maryland and American Bar Associations. In 1922, he ran for and was elected to the Maryland House of Delegates for a four-year term. In addition to a successful legal profession, Mr. Newman married Margaret Frances Besant, his wife of 37 years. He was active in the Frederick County community as president of the Frederick Kiwanis Club, the Historical Society of Frederick County, and the Community Chest, now known as United Way. He was a trustee of St. James School, Hood College, Home for the Aged (Record Street Home), and the C. Burr Artz Library. Moreover, Mr. Newman was an involved lifelong member of All Saints Episcopal Church. Among his personal passions, Mr. Newman enjoyed attending the Great Frederick Fair, cheering for the New York Yankees, collecting stamps, and studying history. He passed away on September 10, 1984 at the age of 87. To honor his memory and to remember his life, friends Mr. and Mrs. John D. Hendrickson II turned to the Community Foundation to establish The Parsons Newman Memorial Fund to provide funds to Heritage Frederick (formerly known as Historical Society of Frederick County) for a series of lectures known as the P. Newman Lecture Series.
Mr. Newman's 1929 Frederick County Bar Association photo was made possible by the Historical Society of Frederick County.