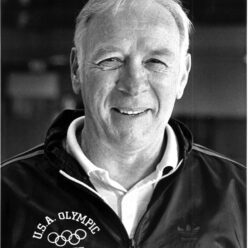 Founded by Earl Main for Frederick High School students pursuing a degree in physical education.
John "Jack" Griffin is remembered as a great coach, mentor, and friend by countless alum of Frederick High School. His 30-year career with Frederick County Public Schools included time at Elm Street Junior High, West Frederick Junior High, and Frederick High School.
Jack was also a Frederick High School alumni, graduating in 1944. After earning his Bachelor of Arts degree from the Maryland Institute of Art in Baltimore in 1948, he was awarded a full scholarship from the University of New York for basketball, baseball, and track, and graduated in 1953.
During his tenure with Frederick County Public Schools, Jack served as president of the Frederick County Physical Education Teachers Association (he was an active member for 45 years) and the State Physical Education Association. He also received the William R. Burdick Award from the State of Maryland for Outstanding Contributions to state and county programs.
Coach Griffin is also known for his international coaching and for founding the Frederick Track Club. Two athletes from the Club earned national and international recognition as world record holders: Debbie Thompson for the 60 year indoor dash, and Tammy Davis for indoor hurdles. He also mentored Ellyn Cornish who ran on the USA World XC Team, and Cheryl Poirier, who was a hurdler on the USA/USSR Team. The Club can boast six American records, along with many other successes.
Jack will never be forgotten, not only for his success as a coach, but also as a mentor to youth, and to many coaches who were better coaches because of his influence.