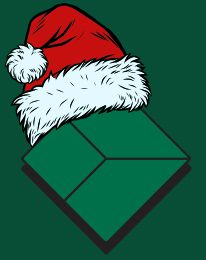 In this holiday season, some families, friends, and co-workers have "Secret Santa" exchanges where holiday gifts are given anonymously. Each person has the name of another person in the group and provides a gift for them. It's a fun way to celebrate the season and make memories.
Based on the "Secret Santa" idea, a donor came to us in 2010 and said he wanted to create a fund to provide small grants that would help people with special situations. He knew that small obstacles sometimes reduced the quality of life, and other aspects of life would improve ten-fold if the smaller obstacle could be overcome. This donor also knew the Community Foundation often received requests of this kind but didn't always have grant money available.
The Secret Santa Fund was born. Early in its life, the Community Foundation received a request from Citizens Care & Rehabilitation Center. A resident needed new tires on her power wheelchair. Her insurance would not cover the cost, and she could not pay out of pocket. The power wheelchair was her only means to be independent, navigate the facility, and participate in resident activities. The grant was made, and this resident was again enjoying life.
Several grants have been requested by SOAR Frederick County (Supporting Older Adults through Resources, Inc.). SOAR's mission is to assist older adults in Frederick County to help meet their essential needs confidentially and respectfully. A Frederick resident undergoing treatment at The Johns Hopkins Hospital in Baltimore needed reliable, regular transportation. A Secret Santa grant helped purchase a car. Another Frederick County resident had no functioning appliances in his home and was living on prepared foods. His wife was receiving care in a nursing home, and his income was very limited. The Secret Santa Fund assisted with a grant that purchased gently used appliances and a grocery gift card to help stock the refrigerator and freezer with food. Another grant request from SOAR helped an elderly man who was deaf replace an old computer that stopped working. The computer was his only way of communicating with the outside world, schedule appointments, and more. A replacement computer ended his isolation and depression.
Other grants from the fund include helping another Frederick County senior with power chair repairs, and a church that purchased gift cards for its Angel Tree program at Christmas so that six children would have Christmas gifts.
Recently, grants from The Secret Santa Fund have supported The Federated Charities Rapid Response Program. This program's purpose of assisting residents who are experiencing hardships with a small grant that could positively change their situation aligns with the purpose of the fund. To date, grants have helped with gas gift cards so that medical appointments could be kept, groceries, medical equipment, gift cards for clothing at Goodwill and Select Seconds, utility bills, and more.
While gift-giving for most of us takes place in a concentrated time frame at the end of the year, The Secret Santa Fund gives throughout the year. The situations that were improved with grants from the fund made a huge difference in the lives of those who benefited. The donor's vision in setting up the fund to provide a "hand-up" to those needing assistance is a wonderful example of giving and creating great impact within Frederick County.
If you're interested in supporting this fund, tax-deductible contributions are accepted at www.FrederickCountyGives.org/SecretSanta.