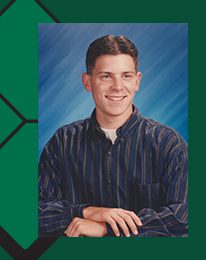 As a community, we continue to hear about accidents and deaths related to drunk driving. It is especially sobering when you know people who have lost family or friends this way. When a person's life is cut short, it's incredibly difficult to find comfort or offer comfort to those left behind. Some people turn their grief into preventative action, so others never experience the same loss.
One example of loss turned into action is The Garrett R. Petronchak Memorial Fund. Garrett lost his life in an alcohol-related accident in 1995. A graduate of Walkersville High School, he was enrolled in his second year at Frederick Community College. His death sent his mother, Peggy Waxter, on a mission to educate others about the dangers of drinking and driving. Her first step was to establish a fund at the Community Foundation for scholarships to graduating high school seniors and grants to nonprofits. The scholarship criteria included that students must be involved in substance dependence prevention programs and grants would support programs relating to the enforcement of underage drinking laws. The fund provides a way to fundraise and accept contributions that are tax-deductible.
Mrs. Waxter decided to organize a community run to raise money for the fund, and The Garrett's 5K Run was established in 1996. She, along with family and friends, worked tirelessly for ten years to organize the race, with as many as 600 runners participating. Mrs. Waxter also partnered with Frederick County Public Schools (FCPS) for ten years to talk with high school students throughout the county about drinking and driving. Since 1998, more than 18 scholarships have been presented, totaling more than $35,000 in post-secondary educational support. Also, she shared her story by speaking at Frederick County Victim Impact Panels – a court-mandated requirement when a person was charged with DUI.
Since education is Mrs. Waxter's focus, she recommends grants to Frederick Community College's Police Science program to assist those studying law enforcement. Grants have provided books to police cadets enrolled in the program, to ensure they have the most up-to-date material available. GoPro cameras were purchased as additional training tools. In 2016 and 2017, grants to Frederick Community College Foundation supported the purchase of two Drunk Busters Pedal Karts and impairment goggles for the Police Science program. The Maryland State Police and Frederick City Police are using the Karts and goggles for community outreach to let people experience what it is like to drink under the influence and have reached hundreds in the community as a result. Additional grants from the fund in 2018 provided the Maryland State Police with three new Preliminary Breath Testers and other classroom equipment that demonstrates how alcohol affects the body and increases drunk driving risks.
How have these scholarships and grants impacted the community? Mrs. Waxter says she has created awareness of the devastation that impaired driving can cause. The FCPS high school students she spoke with were shocked when she described the horrendous car accident that took Garrett's life. When presenting a scholarship in Garrett's name to a student, she makes sure they know about the poor decision Garrett made to ride with an intoxicated driver, and that earning their college degree and being successful is important to her because Garrett would never finish college. She also says the grants have brought the message to a higher level, as the Drunk Buster Kart simulations have reached hundreds of people. "Knowledge is power, and the more information people have about driving under the influence will hopefully save lives," said Mrs. Waxter.