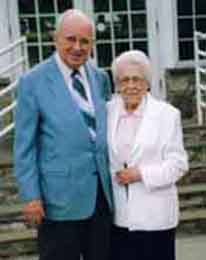 How often do you meet people now who are born, raised, and live their entire lives in the same place? Frederick County is a place where this phenomenon is not uncommon, but increasingly unlikely as the years pass.
Meredith and Helen Young are two people who spent their entire lives here. In 2009, the year both passed away, they were well into their 90's. Graduates of Frederick High School, Meredith was employed immediately following graduation by Fredericktown Bank and Trust (now PNC Bank) as a runner. He began learning many of the other bank positions, but his career was interrupted while he served in WWII as a Master Sergeant in the 146th Finance Section of the Army, experiencing both the European and Pacific theatres of war. Meredith returned to the bank following the war, and in 1957, became assistant vice-president. In January 1959, he became the youngest bank president in the City of Frederick, at the age of 46. He was active in the community, including Rotary Club of Frederick, where he became a Paul Harris Fellow; a charter member of the Frederick Jaycees; vice-chairman of the March of Dimes; a member of the board of trustees of Frederick Memorial Hospital; served on the Board of Associates at Hood College; a member of the A.F. & A. Masonic Lodge, receiving a 70-year Masonic pin; and a member of the Francis Scott Key American Legion Post 11. This list is slightly pared down due to limited space!
Helen Brown was hired by Fredericktown Bank and Trust after her graduation from Hood College in 1935. There she met Meredith, and they were married in October 1943. Helen's bank career lasted 41 years until her retirement in 1978 as vice-president and trust officer. She was community-minded as well, as a life member of the Frederick Memorial Hospital Auxiliary, and a 40-year member of the board of directors for the G. Frank Thomas Foundation. Both Helen and Meredith were 65+ year members of Evangelical Lutheran Church.
The Youngs were generous with their time and resources and were described by a close friend as having spent much of their lifetime "quietly helping students acquire an education." They were modest and didn't want attention or publicity about their good deeds. They recognized the value of education and sought to ensure that studying at the post-secondary level was available.
Meredith was the second of the couple to pass away, and after his death, The W. Meredith S. Young and Helen B. Young Scholarship Fund was established through a bequest to the Community Foundation. Since 2012, more than $260,000 in scholarships have been provided to Frederick County students from the fund. The Youngs also made bequests to Rotary Club of Frederick and the Historical Society of Frederick County. Those organizations decided to create funds through the Community Foundation as a way of ensuring they could fulfill their goals. The Rotary Club of Frederick/W. Meredith S. Young and Helen B. Young Scholarship Fund was created, and since 2012 has provided more than $100,000 in scholarships to area students. The Historical Society created The Meredith and Helen Young Facilities Enhancement and Preservation Fund to support the maintenance and preservation of its buildings. Grants provided since 2012 exceed $125,000.
Meredith and Helen contributed immensely to the quality of life in Frederick County, both professionally and personally, during their lifetime. They continue to have great impact as scholarships will be provided annually, and the history of our county will continue to be preserved because of their foresight. They are a true example of For Good. Forever. For Frederick County.