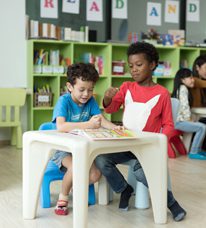 The second installment in our conversation about the Community Foundation's current strategic grantmaking focuses on supporting families with children. As noted in our last column, the 2018 Frederick County Human Needs Assessment provided the data needed for the Community Foundation to realign its grantmaking priorities to support Frederick County's most urgent needs.
The key findings from the 2018 Needs Assessment included that families with children need improved access to quality childcare and out-of-school activities and supervision. It found that education is a high priority for families, but funding for public education is lower than in most other Maryland counties. Additionally, a lack of affordable housing and student loan debt creates financial pressure in addition to paying for other basic needs.
Based on these key findings, our Grants Committee established criteria for applicants (local nonprofits, local government agencies) for identifying project or service outcomes that address 1) increasing or continuing opportunities for all families with children to thrive in Frederick County and/or 2) increasing stability and opportunities for growth in families with children whose household earnings are at the ALICE (Asset Limited, Income Constrained, Employed) threshold.
Our recent grantmaking supporting Frederick County's families with children included programs that provide emergency financial assistance for low-income families (Advocates for Homeless Families), extracurricular activities and family empowerment (City Youth Matrix), educational support for at-risk youth (I Believe In Me, Inc.), security deposits to house families with children (The Religious Coalition for Emergency Human Needs), weekend food for students (Blessings in a Backpack), and a school-based health center (The City of Frederick Department of Housing and Human Services). These are a few examples of grants totaling just over $398,000. Similar programs were funded the previous two years, bringing our total grantmaking in this area to more than $702,000.
Where does the grant money come from? Community Foundation funds are established by people and businesses. Some of the funds have specific criteria that specify the money be used for programs and services that support families with children, and some funds allow our Grants Committee to direct the money to where it is most needed. In addition, our recently established Forever Frederick County Fund, an unrestricted endowment created to address our community's most pressing needs, is now contributing monies to each strategic area. Finally, Strategic Funding Partners (donors who wish to directly support one or more strategic areas) made generous gifts.
Frederick County is fortunate to have nonprofits and government agencies that care about young families with children. They are committed to ensuring our community is a great place to live and raise children, especially when families encounter unexpected circumstances that cause instability. When families thrive, so does our community.