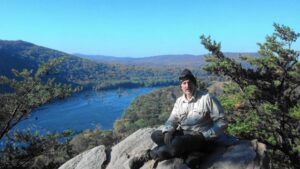 FREDERICK, MD – Oct. 11, 2023: The Vernon "Rick" Rippeon Memorial Fund has been created with The Community Foundation of Frederick County to support Boy Scout Troop 735 in Finksburg, Maryland.
Founded by Vernon Robert Rippeon, the fund honors Mr. Rippeon's son, Rick, who passed away unexpectedly at the age of 51 while leading a Boy Scout hike.  Rick was a college graduate and veteran of the U.S. Navy serving as a gunner's mate from 1983-1987. He loved spending time outdoors with his family and was a dedicated volunteer with the Boy Scouts of America, serving as scoutmaster and assistant scoutmaster for Troop #735 in Gamber, MD. In creating this fund, Mr. Rippeon is not only honoring his son's legacy and love of scouting, he is also ensuring that this scouting program will be available for future generations to benefit from and enjoy.
This fund joins two other funds created by Mr. Rippeon. The Shirley Barnes Rippeon and Vernon Robert Rippeon Fund supports Hoover Library at McDaniel College, where Mr. Rippeon spent many hours studying to become an associate in his father's business. The Mae Retha M. Rippeon and Vernon R. Rippeon Scholarship Fund honors his second late wife's dedicated career at the Maryland State Department of Health by awarding financial assistance to students pursuing an education in the nursing field.