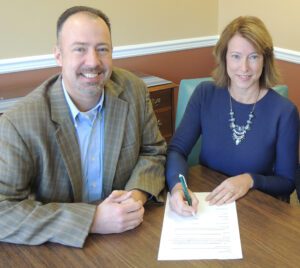 While we've made some progress in talking about and understanding the importance of mental health care, we have a long way to go. According to SAMHSA, Substance Abuse and Mental Health Services Administration, mental health issues can affect anyone. Statistics show that both children and adults are experiencing mental health issues at an alarming rate.
One way to address the issue is to talk about it, to destigmatize mental health so more people feel comfortable seeking treatment. World Mental Health Day is Oct. 10, let's celebrate those working to make a difference.
In 2015, Adrian McCardell "Mike" Remsberg, Jr. and Lisa Nelson Remsberg created The Remsberg Family Fund with the Community Foundation to support nonprofits providing health care, including mental health and behavioral health services, in Frederick County. The couple wanted to create an endowed fund that would strengthen and enhance life in Frederick County during their lifetime and for generations after. They said they wanted to make a difference in an area of great need.
"We did not have a specific cause that was near and dear to us, so turning to the Community Foundation was a logical step to ensure that the most pressing needs were going to be met in our community year in and year out as community needs and programs evolve," Lisa Remsberg recalls.
Since it was created, their fund has awarded grants supporting mental health programs to organizations including Religious Coalition for Emergency Human Needs, Crossed Bridges and Wells House @ Gale Recovery, among others.
"When we thought about creating our fund with the Community Foundation, mental health awareness was not as prevalent as it is today," Lisa says. "We sensed that we could support those in need of nurturing one's mind in Frederick County. In retrospect, it seems fortuitous that after having lived through the pandemic the issue of mental health is more front and center — hopefully allowing more people the opportunity to get the help they need."
In 2000, Bob and Becky Windsor and their daughter, Barbara, owners of Hahn Transportation, Inc., created The Way Station Endowment Fund for Charitable Mental Health Services. This is one of four funds the Windsor family created with the Community Foundation.
In the time since the fund was created, Way Station merged with Sheppard Pratt. Over the last five years, the endowment fund has distributed more than $11,000 to support mental health programs and initiatives in Frederick County.
Individuals and businesses aren't the only ones who create funds with the Community Foundation. Nonprofits also create funds to help ensure long-term sustainability, as an endowed fund provides a stable source of funding for years to come. More than 20 years ago, the Mental Health Association of Frederick County's board of directors created a fund to support the organization's programs.  The Mental Health Association of Frederick County Fund has distributed grants totaling more than $183,000 to support the organization's programs and initiatives.
Behind the scenes there are generous donors working to make a significant impact and dedicated nonprofits working to improve lives. The Community Foundation is honored to be involved in the process of connecting those who care with causes that matter, and we're dedicated to amplifying voices to encourage, not stigmatize, seeking mental health care.
*Published in The Frederick News-Post on 10/9/23.