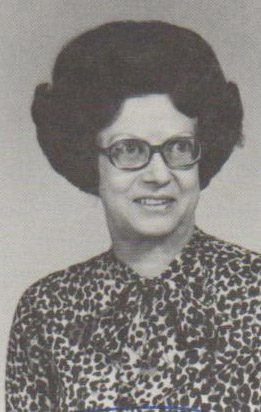 Mildred Trevvett was a nationally recognized music educator who positively influenced countless students. Her legacy is honored with a fund in her name with The Community Foundation of Frederick County that will benefit music educators and students for generations to come.
Ms. Trevvett's career spanned more than 45 years teaching music in public schools. She impacted every student she encountered by sharing her love of music with them. She spent several years teaching in Crozet, Virginia, and in 1949, began her Frederick County Public Schools career at Emmitsburg and Thurmont High Schools, teaching vocal music to students.
In 1966, Ms. Trevvett moved to Governor Thomas Johnson High School, where she taught piano, theory, music, listening, and literature and later served as music department chairwoman. During her tenure, she was instrumental in developing the music advanced placement testing program and the national curriculum for the gifted and talented program. By the time she retired in 1988, Ms. Trevvett had developed more than 40 groundbreaking music courses designed as part of the Yale Curriculum Project. As a teacher, she became a nationally recognized leader in music education.
Throughout her career, Ms. Trevvett mentored gifted and talented students and was a proponent of the arts. This was demonstrated through her involvement with numerous organizations including Baltimore Symphony Orchestra, Community Concert Association, Maryland Alliance for Arts Education, Frederick Arts Council, and serving as an organizing member of the Choral Arts Society. She also shared her talents with students at Frederick Community College, and her music listening courses were a favorite with senior citizens. Her accomplishments resulted in receiving the prestigious Agnes Meyer Outstanding Teacher Award, presented by The Washington Post. In 2000, she was inducted into the Maryland Music Educators Hall of Fame.
After Ms. Trevvett passed away, her niece, Jane Clark Peluso, turned to the Community Foundation in 2011 to establish The Mildred B. Trevvett Music Education Fund. The fund's purpose is to support music educators in furthering their own professional development through didactic training or other recognized methods of professional development. Preference is given to music educators from learning institutions within Frederick County. The fund also awards grants to nonprofits to assist with music educator training, such as master classes, master class fees, and/or payment of related training expenses.
Ms. Trevvett felt strongly that music should be a part of everyone's life. With the fund in her memory, her love of music will be carried on for many generations by helping music teachers expand their skills and knowledge.