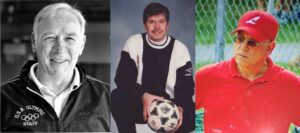 Legendary basketball coach John Wooden said that while a good coach can change a game, a great coach can change a life. I suspect that many folks in Frederick County could point to coaches that have impacted them over the years, by providing structure and encouragement, by pushing them beyond what they thought they were capable of, by showing up and being present regardless of wins and losses, and by being a strong example of mentorship and leadership.
Coaches change lives every day – in big ways and small. The Community Foundation is excited to shine a light on several individuals that are remembered for their coaching through charitable funds created to carry on their legacy.
If you've spent time on the track in Frederick County, there's a good chance you've heard of John "Jack" Griffin. Griffin graduated from Frederick High School in 1944 and later attended New York University where he lettered in track, basketball and swimming. The list of organizations, associations and commissions he either worked with or created in his 30 years of teaching and 60 years of coaching is far too long to list in this column, but it includes everything from teaching physical education to creating the Frederick Track Club, coaching Olympic athletes and founding the USA Deaf Track Federation.
Griffin was Mark Smith's 9th grade physical education teacher. Smith said Griffin inspired him to become a runner and eventually join the Frederick Track Club where he flourished.
"I credit Jack with pushing me to heights I had not aspired to as a gangly kid from a dairy farm," Smith said. "I don't think I would have ever gotten to the ACC championships or traveled abroad as a runner without Jack's tutelage."
In 2017 Earl L. Main established The John "Jack" Griffin Scholarship Fund with the Community Foundation after Griffin passed away at the age of 90. The fund provides scholarships to graduates of Frederick High School who are studying physical education or a related field.
Longtime Middletown High School soccer coach Robert "Bob" Sheffler is also remembered through a Community Foundation fund. In 2008, The Coach Bob Sheffler/Middletown High School Soccer Alumni Scholarship Fund was created to provide post-secondary scholarships for Middletown High School soccer athletes.
According to the YMCA of Frederick County's Sports Hall of Fame, Sheffler enjoyed a 20-year coaching career at Middletown High School and gained respect as the "winningest" soccer coach in county history. He was nominated by the National Federation as one of the nation's most outstanding coaches. Since the fund was created, 17 students have received scholarships, including two in 2023.
The David A. Fogle Fund was founded through Mr. Fogle's bequest when he passed away in 2013. Fogle spent decades coaching and supporting the Frederick National Little League, Frederick Babe Ruth League and FSK Post 11 American Legion Team in addition to other local boosters and clubs. The fund has disbursed more than $3,000 to support Frederick National Little League.
This is just a sampling of the funds held at the Community Foundation to honor the amazing work of some of Frederick County's most dedicated coaches. What an honor it is to play a role carrying on their legacies so that their work of impacting others lives on.
*Published in The Frederick News-Post on 7/17/2023.