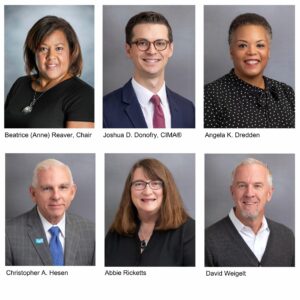 FREDERICK, MD – Oct. 20, 2023:  The Community Foundation of Frederick County welcomes new Board of Trustees chair Beatrice (Anne) Reaver and five new trustees: Joshua D. Donofry, CIMA®, Angela K. Dredden, Christopher A. Hesen, Abbie Ricketts, and David Weigelt.
Beatrice (Anne) Reaver of Frederick and formerly of Emmitsburg, retired Human Resources Director at Emmitsburg Glass Company, has served on the Community Foundation board of trustees since 2020. She has been an active participant on the grants committee and the investment committee. Mrs. Reaver has also served as a board member for Mother Seton School and Hood College.
Joshua D. Donofry, CIMA® of Frederick is a portfolio manager with RS Will Wealth Management. Mr. Donofry has served on the investment committee of the Community Foundation for two years and volunteers with the Rotary Club of Carroll Creek and Color on the Creek. He is also an adjunct professor at Hood College for investment practicum.
Angela K. Dredden of Frederick holds the position of Senior Manager of Volunteers and Donor Relations with Hospice of Washington County.  Ms. Dredden's volunteer work includes Frederick Health Hospital annual support campaign committee, City of Frederick special events, and Celebrate Frederick.
Christopher A. Hesen of Urbana and formerly of Walkersville is Executive Vice President-Regional President East of Middletown Valley Bank. Mr. Hesen is a member of the Order of the Good Samaritan at Frederick Health Hospital and Carroll Creek Rotary and has served as a board member for Interfaith Housing Alliance and Hurwitz Breast Cancer Fund.
Abbie Ricketts of Jefferson is a retired business owner and has served on the Community Foundation's grants committee for six years. Ms. Ricketts' volunteer work includes committee chair of the City of Brunswick Appalachian Trail, board secretary of the Greater Brunswick Area Chamber of Commerce, president-elect and Environmental Committee chair of Smoketown Rotary Club, and past president and current board member of Canal Towns Partnership.
David Weigelt of Frederick is partially retired from the marketing industry and enjoys his work through C12 Maryland, an organization that helps faith-driven business leaders excel. Mr. Weigelt serves as a strategic advisor for City Youth Matrix and has been a member of the Frederick Advertising Federation and Rotary Club of Carroll Creek.