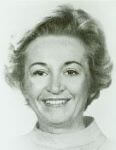 Margaret, U. Mehrl, and their daughter Sharon Hooper were passionate about the future of their community and education, especially providing educational support for children. The Hooper family created three funds with The Community Foundation of Frederick County to ensure that children in Frederick County receive vital support services forever. While the Hoopers have since passed away, their legacy will live on permanently with countless children benefitting from their generosity.
The Hooper family had deep ties to the Frederick community. Margaret Hooper pursued a career in banking and enjoyed teaching Sunday school at her church. Mehrl and Margaret owned the Leather Shop from 1957 until Mehrl's retirement and closing of the business in 1972, and they both were involved with the Historical Society of Frederick County, now known as Heritage Frederick.
Sharon Hooper pursued a career that combined her two greatest loves, children and music. She graduated from Hood College with a bachelor's degree in music and later earned her doctorate in education from University of Maryland. She began her teaching career at North Frederick Elementary School and later became a music teacher at Catoctin High School.
Sharon's love for children inspired her parents to turn to the Community Foundation in 1993 to establish The Sharon I. Hooper Fund for Children in her memory after she passed away from cancer. The fund's purpose is to provide support to nonprofit organizations providing services and programs for children under the age of 18, with preference given to support services for families with children experiencing catastrophic illness. Services include but are not limited to assistance with medical treatment costs, behavioral health services, and offering recreational opportunities to families to relieve stress. The fund has distributed grants to organizations such as Weinberg Center for the Arts for its Families Need Fun program that provides event tickets to catastrophically ill children and their families. The Salvation Army has received support for its Pathway of Hope program to break generational cycles of crisis and vulnerability, and The Delaplaine Arts Center received support for art kits for youth coping with traumatic situations and/or experiencing homelessness. The fund has also provided grants to many other organizations, including Frederick Rescue Mission and YMCA of Frederick County.
During her lifetime, Margaret Hooper created two additional funds with the Community Foundation. The U. Mehrl, Margaret T., and Sharon I. Hooper Fund provides support to nonprofits that offer services and programs for Frederick County residents under the age of 18. This includes children who are at risk of abuse and neglect, experiencing stress in their families that may inhibit them from attending school, come from families where lack of financial resources is impeding their participation in recreational, artistic, musical, and character-building activities, and/or who would benefit from mentoring relationships with positive role models. Grants from the fund have been distributed to organizations such as Advocates for Homeless Families in support of after school activities for children experiencing homelessness and Girl Scout Council of the Nation's Capital in support of its Young Leaders program at Frederick County schools.
Margaret Hooper also created The U. Mehrl and Margaret T. Hooper Scholarship Fund to support postsecondary scholarships for trade and technical school, including secretarial skills, apprenticeship training programs, building and craft trades, beauty and barber schools, mechanics and auto repair, and other areas which are not traditional four-year degree programs. Thanks to Margaret's vision, many future generations of students can pursue their educational goals in these disciplines.
The Hooper family legacy lives permanently with the Community Foundation. Thanks to their generosity, the Community Foundation will be able to support organizations that provide critical support services to children in our community for generations to come.