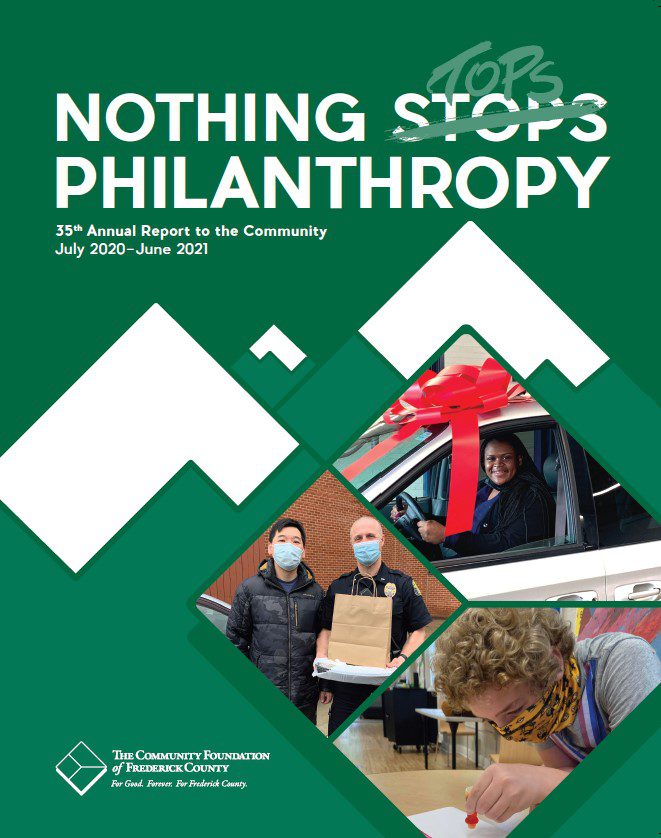 The Community Foundation of Frederick County just released its 35th Annual Report to the Community for fiscal year 2021. We call this report "Nothing Tops Philanthropy" because of navigating another unprecedented and challenging year only to experience that our generous supporters would prove again that giving was still of top importance. Thanks to our donors, both current and new, the Community Foundation provided vital support in the form of grants, scholarships, and leadership as our community continued navigating the COVID-19 pandemic.
The Community Foundation remained strategic in its grantmaking and focused on helping people cope with the pandemic crisis. We expanded our reach by collaborating with local funders and other nonprofits to address food insecurity, eviction prevention, emergency shelter needs, and more.
Thanks to our donors, we exceeded our $20 million fundraising goal in record time for The Forever Frederick County Fund, an unrestricted endowment created to allow flexible grantmaking based on our county's greatest needs. Grants from this fund helped address our current strategic areas of supporting families with children, preparing for an aging population, and responding to substance use disorder. These areas took on a renewed sense of urgency because of the pandemic.
As a result of these efforts as well as others, the Community Foundation distributed $5.1 million in grants to hundreds of nonprofits serving in the areas of health and human services, youth programs, historic preservation, basic human needs, the arts, elder care, animal well-being, the environment, and much more. Scholarships, totaling $1.8 million, helped 392 students with their post-secondary education. Nearly 2,000 donors contributed to one or more of our 750 component funds.
You can find the 35th Annual Report to the Community at www.FrederickCountyGives.org/reports. If you missed our livestream of the 35th Annual Report event last week, the video is available at www.FrederickCountyGives.org/NothingTopsPhilanthropy, along with the videos honoring the 2021 Wertheimer Fellows for Excellence in Volunteerism.
We look forward to the next 35 years. There will be more challenges ahead, but when Nothing Tops Philanthropy, we know that Frederick County will remain a vibrant community for everyone.