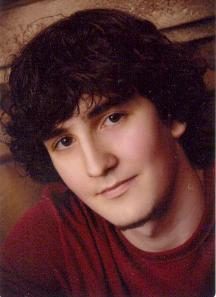 Henry Droneburg, III was a young man who lived life with a quiet kindness that he extended to everyone he met. He was an exceptional artist who was a role model to many and inspired others. His legacy is honored with a fund in his name at The Community Foundation of Frederick County that helps students pursue their educational goals.
As an honor roll student and 2006 graduate of Governor Thomas Johnson High School, Henry pursued his passion of art. He attended Frederick Community College to further his education. His beautiful artwork filled his parents' home, and he had a love of skateboarding and shared his enthusiasm for the sport with his younger brother, Joseph, to whom Henry was a role model. He pursued other hobbies such as snowboarding and karate, where he held a brown belt. During summers, Henry worked for Masters Plumbing with his father and grandfather.
Henry had an ability to make everyone around him smile, and he was loved by many. He was on the verge of accomplishing great things when his life was tragically cut short in a car accident in March 2007, leaving a void in the Frederick County community.
To honor Henry's memory, his family turned to the Community Foundation in June 2007 to establish The Henry E. Droneburg, III Memorial Scholarship Fund. The fund's purpose is to support students studying at the secondary or post-secondary level, with preference given to scholarships for graduates of Governor Thomas Johnson High School majoring in art, supplies for Governor Thomas Johnson High School art classes, and scholarships or stipends to purchase tools or equipment to benefit plumbing students at Frederick County Public Schools Career and Technology Center.
To date, the fund has provided broad impact through grants to support art department supplies at Governor Thomas Johnson High School and scholarships for students pursuing their education at institutions such as Shepherd University, Frederick Community College, Ohio University, and Ringling College of Art and Design.
Henry's legacy has helped many students achieve their educational goals and follow similar passions and interests as his. His life of kindness, creativity, and endless potential is reflected in the fund in his name at the Community Foundation.
The Community Foundation of Frederick County's online scholarship application is open through March 31. Scholarships are available to students pursuing post-secondary education or vocational training during the 2021-2022 academic year. Students about to complete their senior year of high school, students already enrolled in a trade school, college or university, and nontraditional students over the age of 21 are eligible to apply. Scholarship criteria are established by the scholarship funds' founding donors, and some scholarships do not consider financial need.
We encourage all students to apply. To fill out an application and learn more about our program, visit www.ScholarshipsFrederickCounty.com.