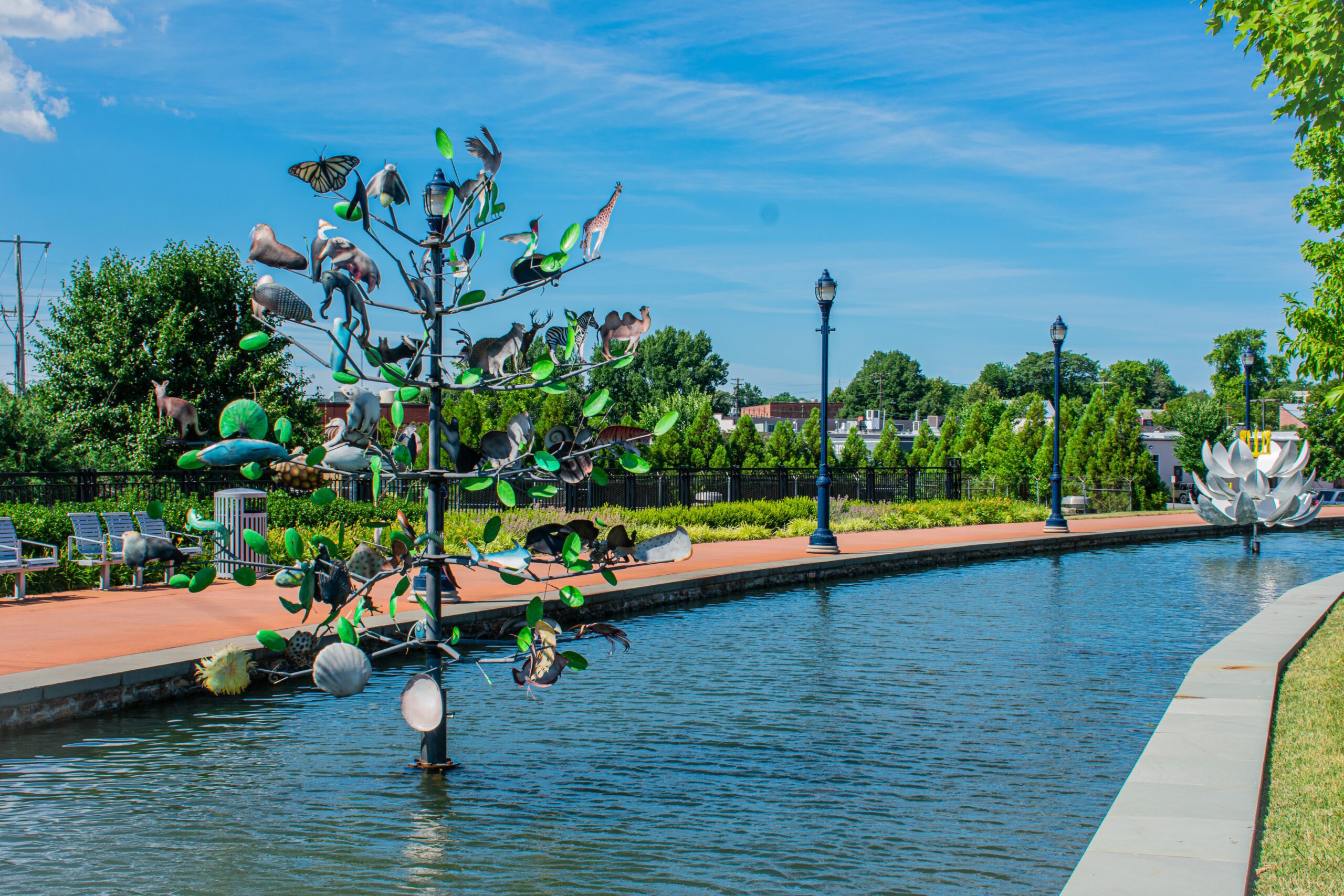 You might be surprised, while walking down a bustling street, to look up and see a cascade of pink and purple petunias or vibrant pink begonias falling over the side of a hanging basket. If you've taken a moment to look up while strolling around in downtown Frederick, you've likely seen some of the 70 flowering baskets that beautify the historic landscape.
The Community Foundation is thrilled to be a part of beautification projects that improve quality of life, highlight unique aspects of a community and shine a light on areas that may need improvement. These types of projects connect neighbors and give residents a sense of pride.
In 2011 the Flowers Over Frederick Committee created The Flowers Over Frederick Fund to support hanging flower baskets and general flower maintenance in downtown Frederick. Many are surprised to learn that the hanging flower baskets are completely funded by the community with donations from individuals, clubs and businesses.
"Flowers Over Frederick's blossoming baskets lend spectacular pops of color to our city's streetscape," said Flowers Over Frederick committee member Diane Laughlin. "The lively baskets signal that Frederick is a vibrant community in which to live, work and play."
Color on the Creek is another beautification project that has proven to be a draw for folks near and far. Dr. Pete Kremers, a recipient of the Community Foundation Wertheimer Fellow for Excellence in Volunteerism Award, created The Color on the Creek Fund to support the ongoing development of the water garden and the Sailing Through the Winter Solstice event on Carroll Creek. Wertheimer Fellows are recognized for being selfless in their contributions of time, energy, and talents as they work to make a difference in the lives of others. Each Wertheimer Fellow receives $25,000 from The Janis Miller Wertheimer Endowment Fund to add to an existing Community Foundation fund or use it to create a new fund.
"For the 1,000 volunteers that have put time and treasure into the water garden over the last ten years, it has been a source of real pride," Dr. Kremers said. "In creating and maintaining such a beautiful garden, they experience the joy it brings to themselves, our community and frequent visitors as well."
The aesthetic enhancements to community spaces reach beyond downtown Frederick. Linda Moran created The Don Doughty and Linda Moran Fund in honor of her late husband. The fund supports a variety of gardening programs and enhancements of public green spaces. In 2019 the fund supported improvements to a "pocket park" in downtown Brunswick that included revitalizing a park bench, trimming trees, planting shrubs and plants, and creating a steppingstone path.
Over the years, many donors have created funds specifically to support maintenance and improvements to churches, cemeteries, historic buildings, parks and schools. The Helen G. and Alfred G. Zimmerman Hood College Campus Ground Beautification Fund, a result of Anna G. Beers' estate provisions, has supported more than $7,500 in projects at Hood College since 2017.
Beautification is an important component of community development, not only in bringing people together, but also in helping to improve property values and making areas attractive for potential businesses and residents.