The Community Foundation is well-known for supporting local nonprofits through grants and local students through scholarships. For more than 30 years we have been leveraging partnerships and dollars to impact lives in every corner of the county in every area from the arts to human services, from animal well-being to historic preservation. But what many people might not realize is how ingrained volunteers are in our work. At the core of the Community Foundation are dedicated volunteers who are driving the important work we're doing every day.
Dick and Sue Basford have both had their feet solidly planted in Frederick County for their entire lives. They were both born in what was then the Frederick City Hospital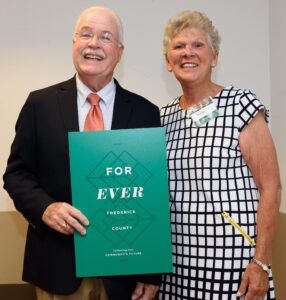 (now Frederick Health) and both graduated from Frederick High School. According to Dick, they were both farm kids, "for both of us, our heritage goes way back in Frederick County – back to the 1800s." Sue added that they both "quit the ag life" after high school. Dick went on to become the Funeral Director at Keeney and Basford Funeral Home where he worked for 44 years, and Sue's career was spent in the classroom as a teacher.
Between careers and raising three children, the Basfords had their hands full. But community service was always important to them. As a Community Foundation trustee, Dick learned firsthand the importance of volunteers in all aspects of our operations. Soon, Sue was volunteering with us too and between the two of them, they spent many hours serving on committees and reviewing grant and scholarship applications. They even sponsored an event at their home on our behalf.
"Frederick is a very generous community in many ways," Sue said. "We knew the people who founded the Community Foundation and we're so glad that Frederick County has it."
In addition to volunteering their time and energy, the Basfords also created The Basford Family Fund with the Community Foundation. The scholarship fund supports local students who are interested in careers in trade and technical fields.
"We created the fund for students interested in the 'hands-on trades,'" Sue said. "There are many opportunities for people who want to be lawyers, doctors and teachers, but there's really not a lot of scholarships for people who want to go into mechanical trades. We need plumbers and electricians in everyday life."
Now well into retirement, Dick and Sue have not necessarily slowed down. Dick stays busy volunteering with his church, at Frederick Health Hospital and he's currently the president at the Lion's Club. Sue has volunteered at Frederick Health Hospital for 50 years and both are very active with the Rescue Mission. Sue remains an active member of the Community Foundation's scholarship committee.
The Basfords have made an incredible impact in Frederick County, both as volunteers and as donors. We were and continue to be appreciative of all that they, and our other dedicated volunteers, have done to benefit Frederick County through their work with the Community Foundation.
* This was published in The Frederick News-Post on Feb. 13, 2023.