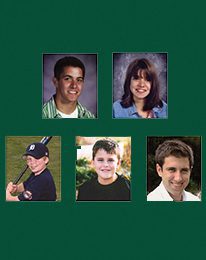 We most often think of legacies as something left behind by those who have lived long, productive lives. Sometimes, though, legacies are created by some who are much too young.
Jeff Hayek was a happy 10-year old boy who loved baseball. Not only loved it but lived it as a pitcher and first baseman. He was a smiling, energetic competitor who strived for the big strikeout. And then tragedy struck. Jeff developed complications from a rare blood clot disorder and passed away.
Nicholas Jarvis was nine years old when his life ended unexpectedly from health complications. An easygoing and cheerful boy, he loved nature and the outdoors, animals of the land and in the sea, and science. He wrote about becoming a marine biologist or having a career in forestry or working with wildlife.
Dustin and Courtney Muse were siblings, ages 16 and 13, excelling in school, athletics, music and theatre. Dustin was known for his drive and determination in the sports he played, and Courtney loved dancing, acting, and playing the piano. Their young lives were cut short when they were involved in a car accident.
Nathan Farlow was described as "extraordinary" and "a person of boundless energy and commitment to excellence." After graduating from college, he was hired by ExxonMobil and relocated to Houston, Texas. He married and was a new father when his life was taken by a drunk driver.
How did the families of Jeff, Nicholas, Dustin, Courtney, and Nathan turn their grief and loss into something that would help others?
Jeff's family – his parents, Robin and Brian Hayek, and his siblings, Bailey and Evan, established The Jeffrey Hayek Memorial Fund to create and maintain a baseball field in the Urbana area that was greatly needed for youth. Their success in building "Jeffy's Field" as a memorial to their son and brother captured not only his love of baseball but his love of life that he exhibited so well in his 10 short years.
Mary and Darren Jarvis, Nicholas' parents, created The Nicolas B. Jarvis Memorial Scholarship Fund to help graduating seniors from Frederick, Urbana, and Tuscarora High Schools who want to study forestry, agriculture, veterinary medicine, marine biology, early childhood education, science, history, or sports medicine. Since 2004, more than 20 students have benefitted from Nicholas' scholarship.
Dustin and Courtney's parents, Pam Flickinger and Donald Muse, wanted to help other youth pursue interests that were similar to their children's. Since 2007, grants from The Dustin and Courtney Muse Memorial Fund have provided college tuition, supported the Monocacy Middle School Chorus and athletic and theatre programs at Governor Thomas Johnson High School, helped faith-based youth groups, and provided athletic scholarships to participate in sports camps or music scholarships for private voice or instrumental lessons to more than 80 students.
The Farlow family – Nathan's wife Jennifer, parents Arnold and Elizabeth, and siblings Catherine, Daniel, and Elizabeth Joy – also created a scholarship fund to create a legacy in Nathan's name. Scholarship recipients of The Nathan W. Farlow Memorial Fund for Excellence are active in a faith-based organization and have demonstrated community volunteerism and leadership – all traits that exemplify how Nathan lived his life.
These families have turned tragedy into something positive. Through their loss, they have honored their children, ensured their legacies, and helped hundreds of others be better at doing the things they love to do. The Community Foundation is humbled to be part of helping these families honor their loved one's lives.