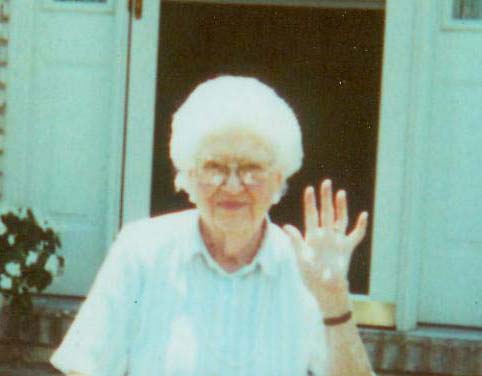 Family, faith, friends, violets, poetry and coffee are just a few of the things that were important to Viola Marie Robinson, pictured. As Mrs. Robinson aged, her mobility decreased, and she progressed from using a cane to using a walker and then a wheelchair. She never wanted to be a burden on anyone, and one day received a gift of a scooter, which restored her mobility and independence. "My wheels are my wings," she told her daughter Jeannie. Mrs. Robinson frequently "drove" to the drugstore not far from where she lived, buying cards that she loved to send.
After Mrs. Robinson's passing in 2003, her daughter and son-in-law, Jeannie and Jack Brunk, decided to create a fund in her memory to help seniors who need assistance to stay independent and in their homes. To date, The Viola Marie Robinson Give Them Wings Fund has helped local nonprofits and government agencies provide dozens of seniors with lift chairs, stair lifts and lift repairs, wheelchair ramps, portable showers, walk-in tubs, hearing aids, eyeglasses, dentures, utility payments, medical supplies and prescriptions, and even a stove and refrigerator. "Mom would love that we are helping other people maintain their independence," said Mrs. Brunk. "She found such joy in the little things in life and was able to continue doing those little things because her independence was extended with the help of the scooter."
Numerous nonprofits and county agencies have worked with the Community Foundation to secure grants from this fund to help seniors. Recently, the Frederick County Department of Human Services (DHS) Senior Care Program made a grant request. This department works with seniors who are 65 years or older and moderately to severely disabled with limited income. The client's stair glide in their home was not working, resulting in loss of family and socialization time due to their inability to access the second floor. The grant made the repair possible and helped return some of the client's independence. "The Community Foundation is quick in responding to these needs," said Leslie Hagerty, senior care case manager, from DHS. "Without their help, Senior Care Program clients would not be able to acquire things like ramps, lift chairs, and stair glides which greatly improve the quality of their lives."
Habitat for Humanity of Frederick County's A Brush With Kindness program provides home repairs to local home owners who cannot afford them, with 80 percent of the applications received from seniors. A local couple needed bathroom plumbing and water damage repairs, grab bars, and more. Habitat for Humanity was able to have all the repairs handled, including critical repairs to floor joists and subflooring, and with a recent Viola May Robinson Fund grant, a tub cut was made to their combination tub/shower. The tub cut allows the couple step-in access, reducing the risk of falling.
The "Give Them Wings" Fund, as it's fondly referred to, will be assisting those who need it for many years to come. With more than $76,000 in grants since 2006, the Brunks are committed to helping seniors maintain their independence and stay in their homes as long as possible. "We want seniors to know there is help for those who need it," said Mr. and Mrs. Brunk. "We are doing a little bit to pay it forward, in the spirit of Mom's loving and generous nature."