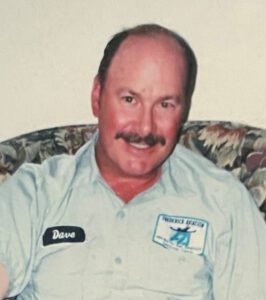 David Marshall knew from a young age that he wanted to fly. He dreamed of being a pilot, of traversing the skies. His mom said all he talked about was becoming a pilot and working in the field of aviation. He followed his dreams and eventually earned his pilot's license and his flight instructor certification and worked as a commercial pilot for 14 years.
At the age of 42, David died after being involved in a forklift accident. Devastated by the loss, his family  and Frederick Aviation created a fund with the Community Foundation that would build a legacy around helping other young dreamers on their journey to traverse the skies. In 2001, The David G. Marshall Memorial Scholarship Fund was created and to date it has provided financial support to more than 40 students.
"He said there was nothing like the freedom you feel when you're up there in the sky," David's mother, Joan Ruff, said. "It takes a special person to want to do that, to actually go up miles into the sky to see what it's like."
After graduating from Damascus High School, David worked on the flight line at Frederick Aviation. He earned his private pilot's license, his commercial license, and became a flight instructor. David's career included 14 years as a captain for USAir Express before he returned to work at Frederick Aviation.
"David was an unusual person in that he got along with everyone, I can't think of anyone he didn't get along with," Ruff said. "He had no problem connecting with all kinds of people."
The David G. Marshall Memorial Scholarship Fund helps Frederick County residents achieve their aviation dreams. The fund provides scholarships to students with a 2.5 grade point average or higher, who demonstrate financial need, academic promise, character, a love for aviation, and a desire to pursue careers in the aviation industry as David had done.
Ayva Levow, one of this year's scholarship recipients, will attend Purdue University in the fall to study aviation. "This scholarship will be such a blessing," she said. "It will allow me to give my full attention to academics in college. I'm extremely honored and grateful to receive this generous scholarship."
Ruff said David's sister suggested the scholarship fund and there was no doubt it was the right path. "All he talked about when he was young was aviation and wanting to fly and be a pilot, so it was a natural thing to want to help other people to do that in honor of David."
Our job of connecting people who care with causes that matter never gets old. While often times donors come to the Community Foundation when they are grieving the loss of a loved one, there is a real joy in helping them build something beautiful from it, that not only helps an entire community remember their loved one, but also directly impacts lives, in perpetuity.
"As his mother, I'm so pleased and happy at how many young people have benefitted over the years," Ruff said.  "And it's not just about being a pilot, we have helped people who have studied to be mechanics and there was one young man that became an air traffic controller. When you read their stories and what they want to do, you just want to help them achieve it."
*Published in The Frederick News-Post on 7/31/2023.