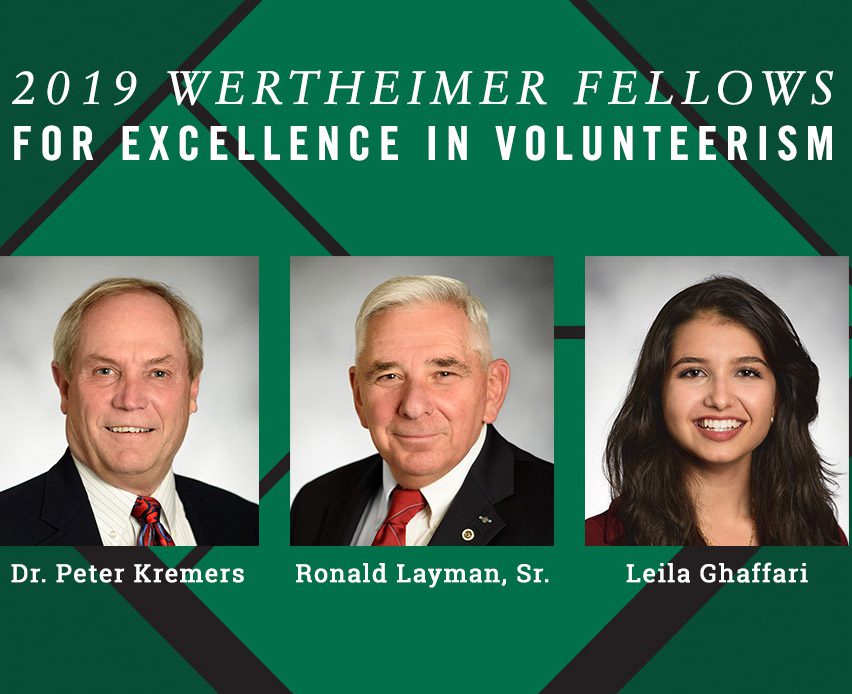 Each year, the Community Foundation recognizes several people from Frederick County who are selfless in their contributions of time, energy and talents because they want to make a difference in the lives of others. We are pleased to announce the 2019 Wertheimer Fellows for Excellence in Volunteerism who will be honored on November 21, 2019, at our 33rd Annual Report to the Community.
The awards are made possible by a bequest from the late Janis Miller Wertheimer, a well-known Frederick businesswoman and prolific volunteer whose legacy of giving continues through The Janis Miller Wertheimer Endowment Fund with the Community Foundation.
Each Wertheimer Fellow receives $25,000 from The Janis Miller Wertheimer Endowment Fund. They choose to add this money to an existing Community Foundation fund or use it to create a new fund. The Wertheimer Fund also provides a $2,000 grant to a nonprofit of choice by the Youth in Action honoree.
Dr. Peter Kremers, 2019 Wertheimer Fellow for Excellence in Volunteerism, is the man behind Color on the Creek and Sailing Into the Winter Solstice. The beautiful blooming water plants that line Carroll Creek and the elaborately decorated and lighted boats in the winter months are becoming legendary.
Frustrated by the unattractive algae growth in the water along Carroll Creek linear park, Dr. Kremers researched ways to limit its growth. A test garden in the Creek was successful, and in 2013, he and 100 volunteers installed more than 1,000 plants. Now, there are more than 4,000 plants and thousands of people, both residents and tourists, enjoy the color and the clean water.
Dr. Kremers started building decorative boats, sponsored by local businesses, to add color in the winter months. Each year, the public is encouraged to vote for their favorite boat and raise money for community nonprofits.
With his award, Dr. Kremers has created The Color on the Creek Fund to support the ongoing development of the water garden and boat display.
Ronald "Ron" Layman, Sr., 2019 Wertheimer Fellow for Excellence in Volunteerism, is passionate about Boy Scouting. After high school and time in the United States Marine Corps, Ron became the Scoutmaster for Troop 274 in 1980 and led this Troop for 34 years. He has mentored no less than 112 young men (including his two sons) in Frederick County to become Eagle Scouts. In addition, he has served on the Catoctin Mountain Boy Scout District Committee for 11 years and the Francis Scott Key District Committee. He is the visionary, administrator and caretaker of the 210-acre Walkersville, Maryland property used to host thousands of Boy and Girl Scouts and their activities. Ron has also served on memorial and design committees for veteran monuments in Memorial Park and is a 50-year member of the Shangri-La Marine Corps League Detachment.
Ron is described as someone who "through visionary leadership, physical labor, collaborative committee ventures, or simply his concern for the welfare of our youth, is a vital force impacting and improving our community." With his award, Ron has established The Ron Layman Family Fund to provide grants to a variety of local nonprofits.
Leila Ghaffari, 2019 Wertheimer Youth in Action honoree, is a senior at Urbana High School and is enrolled in the International Baccalaureate program. From 2014 through 2018, she participated in United Way's Summer Serve program and Leadership Week, an intense program about Frederick County government, history, the business community, educational system, and nonprofits. Through contacts she made during Leadership Week, Leila was accepted as a volunteer intern in the Office of the Mayor, City of Frederick and represented the City at Youth Advisory Council meetings and demonstrated excellent leadership among her peers.
In addition, Leila sings with the Frederick Children's Chorus and has been a member since the third grade. From summer camp counseling to promoting Chorus events to small administrative tasks, she has earned the respect of her peers and adults by her motivation to help.
Leila is described as dedicated, focused, and kind. With her award, she is providing a grant to United Way of Frederick County, with support to Heartly House, and a grant to Frederick Children's Chorus.